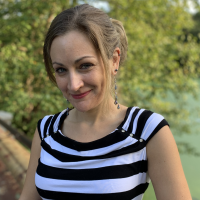 Skye McDonald
Contemporary Romance, Romance
Skye McDonald is the author of the Anti-Belle books, a contemporary romance series set in her hometown of Nashville, Tennessee.

As an English teacher, a die-hard romantic, and a huge fan of Nashville's hip new vibe, Skye's Anti-Belle series are standalone novels about sassy GRITS (Girls Raised In the South) learning to love themselves before they can claim their happily ever after. (Spoiler: they always do!) Her first book, Not Suitable for Work, won the 2017 Linda Howard Award of Excellence in the Romantic Sensual and Sizzling category.

When she isn't lost in a love scene or grading student essays, Skye can be found cheering for the University of Tennessee (go Vols!), exploring Brooklyn with her adorable Corgi, or heading off on some new adventure.
Some books are to be tasted, others to be swallowed, and some few to be chewed and digested.
Francis Bacon